Reviews and Testimonials
Here at Luna CBD we have a stringent quality control system that includes third party testing which analyzes the quality of our hemp extracts that become our final products. They test for cannabinoid potency, heavy metals, fungus, pesticides and bacteria.
Luna CBD is considered a broad spectrum hemp product. It means that all products, except Sport, contain a full cannabinoid profile that include trace amounts of THC well below the federal legal limit of .3% This ingredient may cause a false positive on certain drug tests which is why we have the Luna CBD Sport option which contains no THC.
All of our products contain terpenes. These act on receptors or neuro-transmitters and act as serotonin uptake inhibitors (similar to anti-depressants) and have been shown to increase dopamine activity.  Every day more research is being done on these properties of the hemp plant and how they can help treat specific health conditions.
In addition to being non-psychotic CBD seems to have antipsychotic properties.
The FDA considers hemp oil ( and its derivative CBD ) to be a dietary supplement not a medication. If you live in the US, it means you do not need a prescription and can legally purchase and consume Cannabidiol in any state.
We suggest using our CBD oil products within one year of purchase.
Store away from sunlight or extreme heat.
This product is not for use or sale to persons under the age of 18. The statements made regarding these products have not been evaluated by the FDA. These products are not meant to diagnose, treat, cure or prevent any disease.  Please consult your health care professional about potential interactions or other possible complications before using any product. By using this site you agree to follow the Privacy Policy and all the Terms & Conditions printed on this site. Void where prohibited by law.
For More information on our Third Party Domestic Testing,
Click Here

Grown and Processed in the USA

My giant Great Dane Jasper is a tiny fragile flower on the inside. She is super sound sensitive and terrified/traumatized by thunder, lightening, fireworks, big trucks and any unexpected loud noises. It gets so bad at time that she wedges herself under furniture to the point she cannot get out and we must lift the furniture off her. We have tried everything . Since starting on her daily doses of Luna CBD Pet Oil, her anxiety has lessened. When we anticipate storms or fireworks, I increase the dose and she is much calmer. Not completely cured, but much more manageable and less distraught . I highly recommend giving it a try for the fragile flowers in your world.
Jodi H.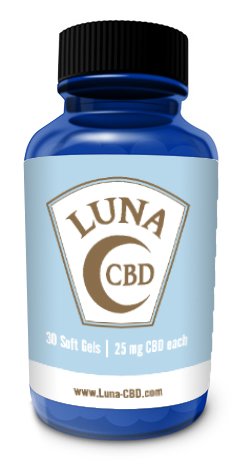 I have tried other CBD oil in the past in liquid form mainly to help with sleeping. Sometimes it would work other times it wouldn't .
When I talked with Julie about Luna CBD Oil and it being in a pill form I was excited to try it. Luna CBD Oil works great. I have been sleeping so well and even when I wake up too early it's easy to get right back to sleep. I don't wake up groggy. I just consistently have a wonderful nights sleep. Thank you Julie for introducing me to Luna CBD Oil.
Melanie R.

Hi, my name is Sean and I'm from Atlanta, Georgia. As a migraine and anxiety sufferer, I've looked for natural solutions to dealing with it and Luna CBD Oil has helped so much. The tension and pain have shown a noticeable decline and I'm able to take fewer big pharma pills than before. If you're looking for a natural solution for any type of pain I highly recommend Luna CBD. Also, the orders generally arrive around 2 days after being placed, and you can't beat that.
Sean D.